A Cathedral For The Future
Our goal is as simple as it is audacious:
Renew the Cathedral to help heal the world.
Our Progress
$143M

of
$150 Million
The Campaign for Washington National Cathedral
National Treasure
Fully restored, equipped and reenergized, this Cathedral building can promote transformative encounters with architecture, artistry and everything that happens here.
From the highest point in our nation's capital, Washington National Cathedral stands as holy ground—a safe space and a refuge consecrated by generations of prayers, tears and joys. It is also a symbol of human aspiration and our common journey. In stone, stained glass and sacred fabric, this masterpiece depicts the story of God's people and the American people.
More About This Priority
A House of Prayer For All People
As this Cathedral begins a second century of ministry, we seek to elevate our music and worship offerings so that we can connect with and sustain the faith of wider audiences in person and online.
Music and worship are the heartbeat of daily life at the Cathedral. Our varied and compelling spiritual offerings are designed to support personal faith journeys and encourage connection within and across faith communities. Here, this community includes our resident congregation, our thriving virtual congregation, and all those for whom the Cathedral helps them grow in the love of God.
More About This Priority
Where Sacred Meets Civic
From its unique perspective at the intersection where sacred meets civic, this Cathedral can help heal our nation and our world through conversation, encounter, action and reconciliation.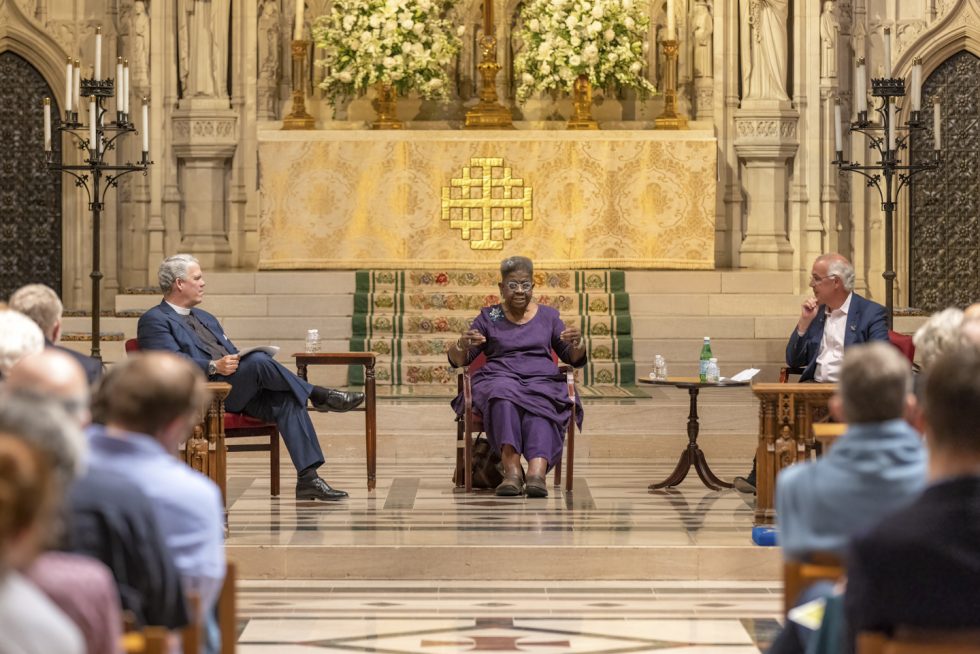 Washington National Cathedral embodies our country's most cherished values and the ideals to which we all aspire: decency, respect, moral leadership and civic engagement. But this Cathedral is not just a symbol. It is a national community of thinkers and doers, enlivened by compassion and following a call to address the brokenness of our times. Through gatherings large and small, we help shine the light of the gospel on the issues facing our nation and our faith.
More About This Priority
Gallery
Final Touches, Readying the
Virginia Mae Center
The renovated Virginia Mae Center's intimate spaces are being prepared to offer opportunities for contemplation, reflection and life-changing encounters with God and with one another.
Gallery
Restoring a Masterpiece
Restoration continues following the earthquake of 2011, incorporating technological and structural advances to ensure the Cathedral will be a stronger and more resilient structure. Our stone masons, who are national leaders in their disappearing craft, are experts at repairing and creating damaged pinnacles and other stone elements.
Partner With Us in this Fulfilling Work
Make your commitment
Your gift can ensure a future that reflects the many ways in which Washington National Cathedral touches lives: as a National Treasure, as a House of Prayer for All People and as the place Where Sacred Meets Civic.
Donate
Gallery
With Joy and Thanksgiving, Welcoming A Cathedral for the Future
Over the Cathedral's 115th birthday, we announced our $150 million comprehensive campaign. Many thanks to all who joined us in-person and online for a weekend full of celebration and the inauguration of the public phase of A Cathedral for the Future.